Setting in

dividual

availability for CyberGate

Do you find yourself as a manager way too often adjusting your team's availability in the CyberGate Management Portal settings again?


Despite CyberGate being a very user-friendly service, changing settings daily or even more frequently can take time and effort. On the other hand, giving everyone admin rights to the Management Portal to adjust their availability isn't an option either.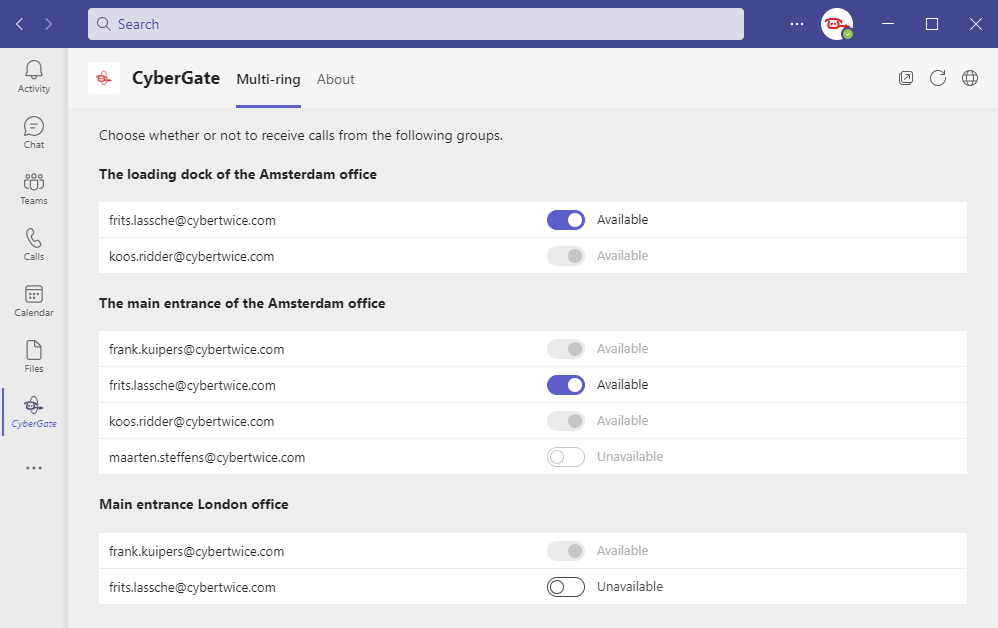 CyberGate for Teams
This is past tense with the release of CyberGate for Teams in the Microsoft AppSource and Microsoft Teams App Store. All team members can adjust this in their own Microsoft Teams account. Let them use the toggle switch to set their availability per device.
When you subscribe to our CyberGate Software-as-a-Service (SaaS) solution hosted in Azure, you can do so within Microsoft Teams.
Supervisor
By appointing a Supervisor in the Management Portal per Multi-Ring group, they can adjust or overrule their team's availability status per person. This gives your managers or team captains a good overview of the team's status, and there is always someone available to open the door.
You can assign one or more supervisors to each multi-ring group via the CyberGate Management Portal. As a supervisor, you don't have to be part of the multi-ring groups to manage them. You can add up to 15 colleagues to a multi-ring group. Each multi-ring group is connected to a single device.
Unavailable?
There are many reasons why someone can't be the one to answer the SIP Intercom or IP camera. For example, whether they:
Have meetings all-day
Are out of the office or
Are working from home
With the flick of the switch, the settings are adjusted, and incoming Intercom Teams calls reach the remaining part of the team. The first person to respond will get the call as all team members are ringed simultaneously.
Getting started with Availability
Follow these simple steps to enable the availability settings in the CyberGate app, and you're good to go!


2. Add "CyberGate"
Click on "add" and install the app
3. Set Availability
On the "Multi-Ring" tab, you can set your availability within a Multi-ring group
4. Pin CyberGate
For your convenience, you can pin CyberGate to the Sidebar. Right-click on CyberGate and select "Pin". This way, it always remains within reach
Looking for an easy way to change your availability?
Availability settings are available now!