Very easy to open the door
We added a new functionality to CyberGate. With this new functionality, it is even easier for your team to open the door to visitors. From now on, you don't have to open the door via the Teams dial pad but simply click on the new "Open door" button on your screen.
Open door button
When someone rings your (Video) door Intercom, you can click on the new "open door button" to allow visitors to enter. The button will be situated on the right-hand side of your screen. This means no more remembering and entering pin codes; just clicking your mouse to open the door.

Prerequisites
The open door button functionality will only function on the Desktop version of Microsoft Teams (Windows, Mac OS, Linux) and in the browser version of Microsoft Teams. So mobile devices are not supported for now. Microsoft does not support in-call apps on mobile devices at the moment.
Configuration
1. Configure open door code in CyberGate management portal
Go to the CyberGate management portal and log in with your tenant credentials.
Go to: 'Basic' -> 'Device' and select the edit button of the device for which you want to configure the open door button. Fill in the 'Open door code' (this must match exactly with the open door code configured in the device itself).

Click on the 'Update' button.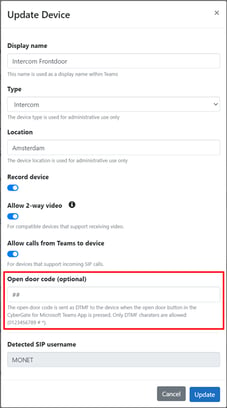 2. Setup call from intercom to your Teams client
Make a call from the intercom to your Teams client (press the button on the intercom/door station). Accept the call in your Teams application and leave the call open for the following 2 steps.
3. Add CyberGate App to active call
In the open call, click on the 'apps' button in the top bar of the active call.
Type 'CyberGate' In the search box


Click on the 'Add' button.




When you do not have the app installed, it could ask you to consent to basic permissions. (View your basic profile, Maintain access to data you have given it access to). You need to accept these permissions when you want to use this app.




Now click on the 'Save' button
4. Click open door button
Now every time the (Video) Door Intercom calls you, the CyberGate app will be available in the call window.
After this, the Open Door button will be available whenever the intercom/door station calls you. Please repeat these steps per intercom to add the Open Door button functionality.