ATTEST is a unique recording solution for Microsoft Teams, now available as a transactable SaaS offer in the Microsoft Azure Marketplace. The 300 million active Microsoft Teams users can now securely record, replay and analyze their Teams conversations and start to use the solution fast and easily.
Your enterprise's central communication & surveillance hub
CyberTwice, a Dutch Microsoft Independent Software Vendor (ISV), announced today the launch of ATTEST. A Microsoft Azure-based SaaS solution that offers recording and attestation services fully integrated with Microsoft Teams. ATTEST captures Calls, Videos, and Meetings in Microsoft Teams. Combined with CyberGate, it also records the audio and video streams of various IP devices integrated into Microsoft Teams, like intercoms, paging solutions, and even CCTV cameras. Thus, Microsoft Teams forms enterprises' central communications and monitoring hub for audio and video.

Monitoring, controlling and ease of use
"We developed ATTEST for Teams in such a way it is always accessible, using your own Microsoft credentials, enabling that monitoring and controlling is an integrated part of your Teams environment," said Otto van Linden, CEO of CyberTwice. "The best thing is that it suits many industries, from SMBs to big enterprises in Financial Services, Retail, Health Care, Public Safety, Emergency services, Control rooms, and Governmental. We have four different subscription plans available, so there is always one that meets your needs".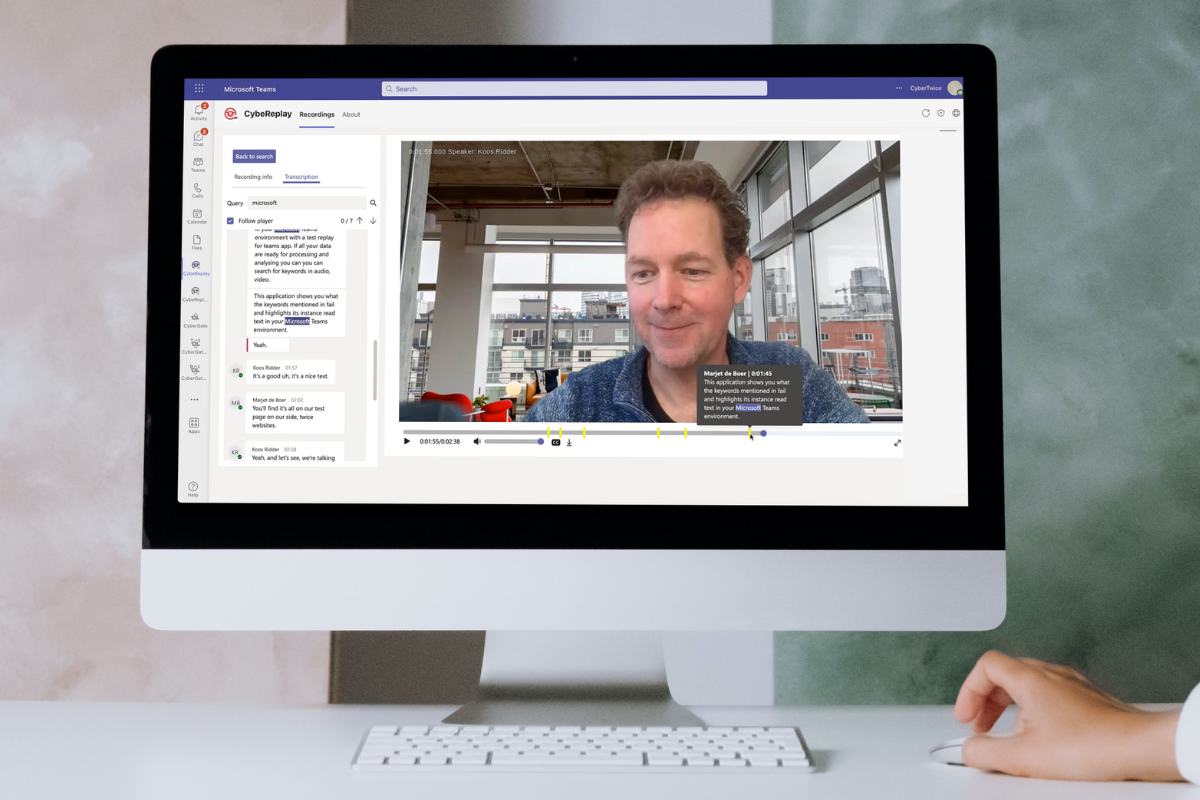 ATTEST offers pure convenience without requiring extra software programs, additional hardware, or new login credentials. The solution is designed for anyone who needs to record their surveillance and communication audio and video streams, whether or not driven by regulation, with only an M365 Business, M365 Enterprise, or O365 license requirement.

Transcription services and analytics
Files can be found quickly with the extensive filtering options in the ATTEST Replay app within Teams. Users can search for keywords in video and audio recordings and use Azure Cognitive services, such as Transcription Services, Speech and Video Analysis, and Facial Recognition. Making evidence easy to provide.

Keeping the data safe and secure
CyberTwice understands the importance of your recordings safe and secure, using Azure Active Directory, Azure Key Vault, and Azure Blob Storage. The data is captured and fully encrypted, providing peace of mind for businesses across various sectors.
For more information, contact us at info@cybertwice.com.